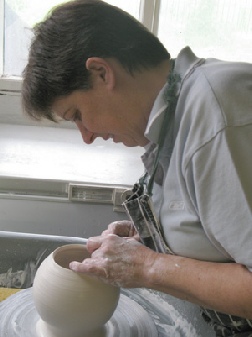 Gillian McMillan, M.A., Dip.A.D.
Gillian was born in Southport, Lancashire.
At the age of sixteen she began her education at art college. It was at Southport that she was introduced to clay and began specialising in ceramics.
Having completed a three year course at Wolverhampton Polytechnic and obtained a Diploma in Art and Design in Ceramics, she then went to Stoke on Trent Polytechnic and obtained a Masters in Industrial Design. She worked at Myott Meakin as a designer before leaving the area and setting up her own studio.